Slide 1
Agua Reflejos
New Colors:
Watercolour Ultramarine, Watercolour Olive Green,
Watercolour Lime, Watercolour Chocolate,
Watercolour Bejge, Watercolour Yellow,
Agua B-Q19 Ultramar
Slide 1
Alabaster Glass Blocks
The alabaster Elements leitmotiv is the naturalness of the stone and how possible is to sense nature of the elements in all our pieces. The light represents the Fire, the...
Slide 1 - copiar
Full Glass Brick
La idea del ladrillo de vidrio macizo ha nacido en Véneto (Italia) en el año 1980 para satisfacer proyectos y arquitectura de alto nivel en el sector de las paredes en vidrio...
Glass Blocks
Alabaster GlassBlock
Full Glass Brick
High Performance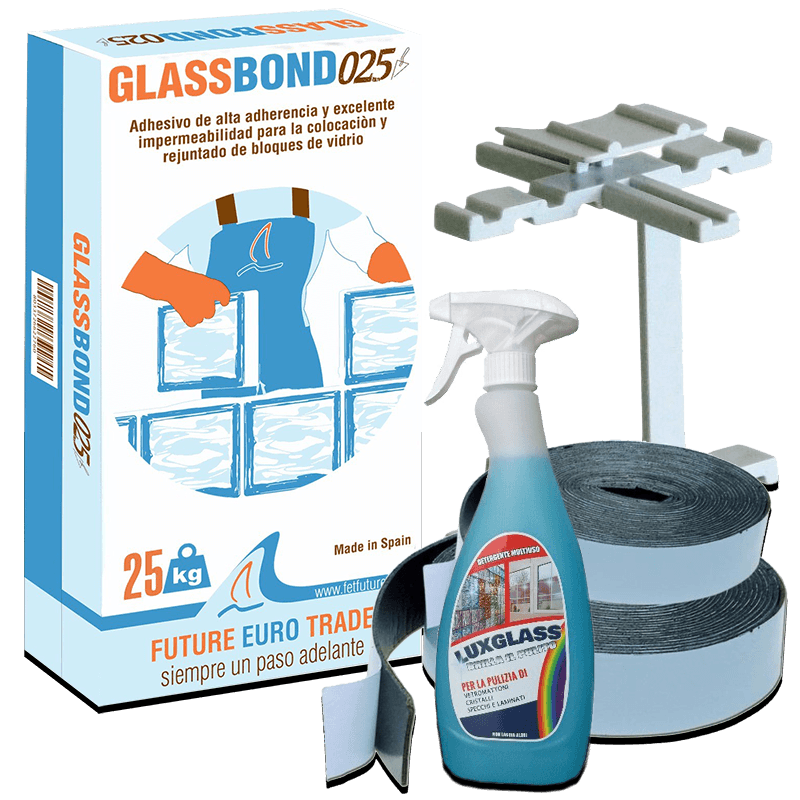 Accessories
Roof Tiles
Future Euro Trade is one of the leading world leaders in the distribution of glass blocks and assembly systems in aluminum and PVC for use in architecture and interior design.
Future Euro Trade gives you the opportunity to transform glass into artistic expressions of light and sustainability. Artisan tradition, continuous research of the best partners and advanced technology solutions are the guarantees we offer to our customers for a product that is always at the forefront and with the best technical characteristics.
The final quality of our proposals and of the people who dedicate themselves every day to achieving the best end result are always our targets.
The ReadyBlock aluminum system has been designed to build walls with glass blocks, in a simple and fast way, without the presence of qualified personnel and without the…
Binary is a modular system, patented, in pvc, for the simplified construction of flat and curved walls, for glass blocks and for laying on site. For the exterior and the…
METAL® the new aluminum system for walls with glass blocks, elegant, light and resistant. It combines the lightness and strength of aluminum to the transparency and…
Multiplo
Patented modular Pvc system for the simplified prefabrication of vertical panels, skylights and garrets with shields or special glass blocks and and traditional bl...
Traditional System· · ·
future-euro-trade-bormioli-bar
future-euro-trade-bormioli-chalet
future-euro-trade-bormioli-dentista
future-euro-trade-bormioli-gimnasio
future-euro-trade-bormioli-guarderia
future-euro-trade-bormioli-jardin
future-euro-trade-bormioli-piscina-01
future-euro-trade-bormioli-piscina-02
future-euro-trade-bormioli-sala-de-espera
future-euro-trade-bormioli-salon-de-belleza